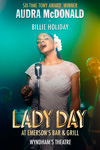 Lady Day at Emerson's Bar & Grill
at Wyndham's Theatre
Price from $ 64.40
Lady Day at Emerson's Bar and Grill is a true tour de force of music, jazz, blues and drama. Six-time Tony Award® winner Audra McDonald makes her West End debut as the legendary jazz icon, Billie Holiday.

Highlights:
- Ensure your tickets to this beautiful musical
- Choose your own seats
- Enjoy the jazz/blues songs by jazz legend Billie Holiday
- Experience the Tony award-winning actress Audra McDonald as Billie Holiday

Lady Day at Emerson's Bar and Grill
Lady Day at Emerson's Bar and Grill is a play with music by Lanie Robertson, recounting some events in the life of Billie Holiday. Spend an intimate evening filled with some of the most inspiring and moving songs ever written and hear the personal stories of Holiday's loves and losses through a turbulent but extraordinary life.
With a glorious score featuring songs like God Bless the Child, What a Little Moonlight Can Do, Strange Fruit, Crazy He Calls Me and Taint Nobody's Biz-ness you'd better pull up a chair and order a drink because this legend's got a life to sing.

Lady Day at Emerson's Bar and Grill premiered originally at the Alliance Theatre, Atlanta, Georgia, in 1986, with direction by Woodie King, Jr. and Reenie Upchurch as Billie Holiday.

How do I get my tickets?
Shortly after your booking is complete, you will receive an e-ticket by email. Just print out your ticket and bring it with you to the theater.

Did you know this about Audra McDonald?
Audra McDonald is both a Tony, Grammy, and Emmy Award-winner and one of Broadway's biggest stars and holds the record for Tony-winning performances including her Best Actress-winning performance for Lady Day at Emerson's Bar and Grill.

Lady Day at Emerson's Bar & Grill Reviews
"Audra McDonald is spellbinding as Billie Holiday. It's the real deal. Get a ticket."
The Times
---
"A powerhouse performance"
Evening Standard
---
"Utterly intoxicating"
The Telegraph
---
"Absolutely astonishing"
The I Newspaper
---
"The most daring and accomplished performance of the year"
Sunday Express
---
Venue Info
Show Information
Booking from
2017-09-08
Booking to
2017-09-09
Running Time:
90 min.
Directions

The theatre can be seen opposite the station.

View map